Frequently asked questions
Compatible and incompatible video cameras for PIXIO
---
The JVC, Panasonic, Nikon, GoPro cameras don't have any plug to control their zoom and their 'record'. They will have only the automatic rotations. For some users it's OK, but for others the auto-zoom and the remote control of the record from the watch, or from a smartphone, is interesting. For sport it is usually important.

The GoPro cameras can be mounted on PIXIO with their small tripod adaptor but have no zoom control. Most Sony and Canon Video cameras are compatiable. For a list of all compatiable cameras you can email amy@reins.co.nz
---
Can I use both indoor and outdoor?
---
Yes! PIXIO and PIXEM both have a 100m range and can be used indoors and outdoors. Set the beacons around your riding area and go!
---
Can I use PIXIO for things other than horse sports?
---
Of course! The sky is the limit – dog agility, dancing, home cooking shows, sports training of any kind, use on a sports field to track a certain player. And when it comes to horse sports, PIXIO will track show jumping, games, dressage, auto-zoom and follow you wherever you go within the 100m range.
---
How to set up your PIXIO and PIXEM
---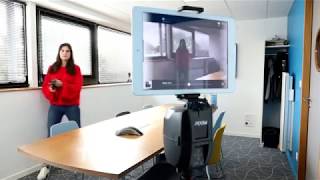 ---
Can I use a tablet instead of a smartphone with PIXEM?
---
Yes! You can use any smartphone or tablet with the PIXEM model. This is perfect for the user who is not too fussed about the quality of their video. If you need HD video, then we recommend buying the PIXIO model and attaching a compatible HD video camera.
---
What can PIXIO and PIXEM be used for ?
---
For Coaches
PIXIO or PIXEM is the perfect way to set yourself apart from the crowd and video your clients' lessons whilst you are teaching them. Home Riders If you are a home rider this is the newest way to video yourself. Every time you ride you can video and critique yourself to improve. Selling Horses If you sell horses, PIXIO or PIXEM make it easy to video them whilst you are riding. Just set up your beacons, the robot with camera or smartphone attached, slip on the watch and go!
---
What do I need to get started ?
---
To get started you will need to purchase a PIXIO or PIXEM robot, beacons and watch. Included in the starter package are all of the charging components. You will also need:

• a compatiable video camera or tablet/smartphone
• a tripod • something to attach the beacons to – we find they work best when between 1m and 1.5m above the ground. Electric fence tread-ins are great! • a camera bag is useful to pack all of your pieces away in to keep them safe, and also for transportation
---
---